Company Profile
会社概要
Company Mission
会社方針
We create and build products that unite all our employees in line with our motto Outstanding products from outstanding personalities.
In addition, we have set up our own in-house Integrated Production Systems for all processes, from design, material procurement through to testing operations.
Through our management systems, we ensure high quality products are delivered, passing strict quality controls.
The merit of our in-house Integrated Production Systems is that the know-how related to all stages of the manufacturing process continues to expand and integrates our unique technology.
Our technology leads to manufacturing processes that fully apply to new product development, meeting all challenges to satisfy our customers.
Message from the President
ごあいさつ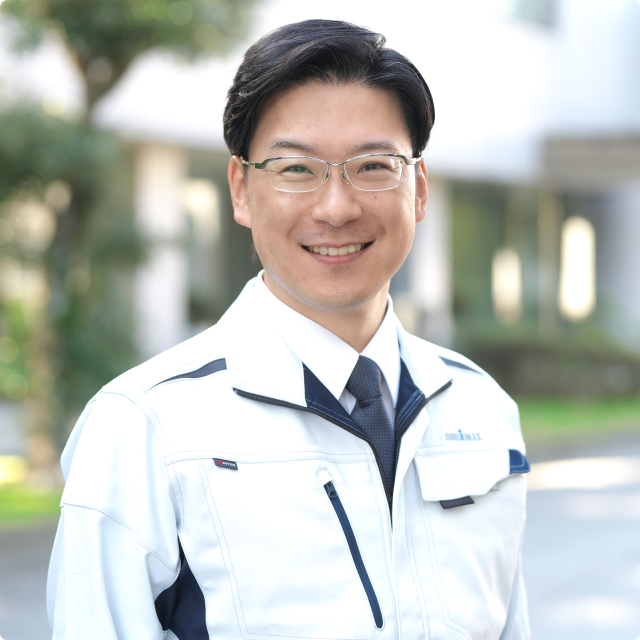 We have sustained our business as a dedicated machine tool manufacturer since 1924, building engines, cutting tools, high speed lathes, etc., in line with our the motto "Outstanding products from outstanding personalities". We aim to be a leading global company that creates products with higher performance and reliability, putting "customer satisfaction" as our highest priority. Nishijima Corporation appreciates the ongoing support and encouragement from all our customers.
President & CEO

Company Pro

f

ile
会社概要
NISHIJIMA CORPORATION
西島 豊(Yutaka Nishijima)
12 Ohara, Ishimaki Nishikawa-Cho, Toyohashi City, Aichi Prefecture 441-1102
→Access
TEL. +81-532-88-5511
FAX. +81-532-88-5522

1924
Sixty Million Yen
Design and manufacture machine tools exclusively for automotive industries, fully automated carbide circular saw cutting machine, fully automatic circular saw blade grinding machine, screw/ring/gear rolling machine, automatic machine tools for agricultural operations, etc.
"Outstanding Products from Outstanding Personalities"
Leading a healthy and active life
No retirement age or academic / technological background requirements.
Nishijima Medical Corporation  
Home Page
Access
アクセス
NISHIJIMA CORPORATION
12 Ohara, Ishimaki Nishikawa-Cho, Toyohashi City, Aichi Prefecture 441-1102.
By Train

【From Chubu International Airport】
Take [Meitetsu Tokoname /Airport Line] from [Chubu International Airport] station to [Jingumae] Station. Transfer from [Meitetsu Nagoya Main Line] from [Jingumae] station and get off at [Toyohashi] station.

【From Toyohashi Station】
Take JR Iida Line from [Toyohashi] station and get off at [Toyokawa] Station. Continue by taxi (about 15 minutes) from Toyokawa Station to the Nishijima factory.

By Car

Get off at Toyokawa IC tollgate and continue to [Shinshiro Homen]. Stay on NORTH after merging with National Route 151 and look for [Ichinomiya Town Office], then turn right at the intersection signal. Follow the road straight ahead to reach our factory.
History
沿 革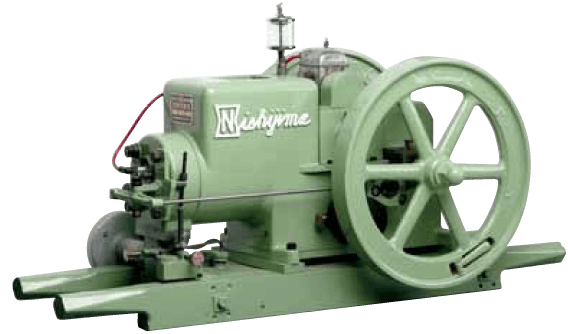 Our Engines
The founder Nishijima Yoshaburo developed the engine in 1932. It was mainly used in agriculture and civil engineering fields. The engine was a revolutionary one for its handy, lightweight and adaptability to inferior fuels features. Many exports were made to domestic as well as to Southeast Asia.
The founder, Nishijima Yoshaburo, established the Nishijima Engine Production Factory at Mie Prefecture Toba.
Constructed a new factory in Muro-Cho, Toyohashi city and merged the Toba factory.
Masao Nishijima was appointed as manager of the expanded factory. Production of marine and agricultural engines started as the war ended. The company name was renamed Toyohashi Kogu Nishijima Plant.
The company started the production of the exclusive lathe NS-1 type.
The company expanded the production of the exclusive lathe using hydraulic and pneumatic pressures.
Nishijima completed the in-house development of a numerical control (NC) device. We started production of transfer machines and automatic assembling machines.
The company imported and installed state-of-the-art machine tools, including large machine tools along with meeting the expanding demand for special purpose machines.
The Ceremony for the new headquarter factory completion was held on April 6. The company introduced large CAD/CAM (Mitsubishi MELCAD) systems.
We exported machine tools for the first time since Toyohashi Port had opened.The compressor body processing transfer line for automobile air conditioners was shipped to HCC Company, the VISTEON group trading in Korea from Toyohashi Port since 1990.
Nishijima Tokushi was appointed as a key representative. He started sales and technical alliances with Profiroll Technologies GmbH, Germany, for the high-speed high precision circular saw cutting machine HIGH-CUT 100 and the ring rolling machine URWA series.
The company was renamed to "Nishijima Corporation" on July 1. Nishijima Tokushi was appointed President and CEO.
The company developed a series of carbide circular saw cutting machines. Sales expanded domestically and business expanded overseas.
Nishijima Corporation was certified as one of the top 59 Aichi brand companies. It was certified by the Manufacturing Brand NAGOYA award company.
The company introduced the three dimensional CAD system I-CAD.
『Fifty years of service award』was established.
『Sixty years of service award』was established.
Yutaka Nishijima was appointed President and Representative Director.
Ministry of Economy, Trade and Industry: accredited in the vibrant HABATAKU small and medium enterprise 300 program.
Ministry of Economy, Trade and Industry: accredited as a regional future leader in the Companies Driving Regional Growth program.
Second generation president,
Masao Nishijima

NS-1200 Lathe developed.
A

f

f

iliated companies
提携会社